Jesse Aguilar—Design Engineer
In 2004 Jess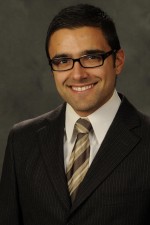 e Aguilar graduated from the University of Massachusetts in Amherst, Massachusetts with a Bachelor of Science in Civil Engineering.  He also earned an FE status from NCEES and his Soil Evaluators license from the Commonwealth of Massachusetts.  He is currently planning to earn his Professional Engineer and Soil Evaluator Licenses from the Commonwealth of Massachusetts.
Jesse has been designing a variety of site development projects since 2004 and in more recent years has taken a more prominent management role in such projects.  His background in and enthusiasm for CAD, GIS systems, and design provide a strong basis of problem solving and making his clients more successful.  He has had and continues to have the opportunity to refine and expand his skill set both on the job and through continuing education, helping him to develop into a versatile and valuable resource to his clients.  He is very personable and takes a great deal of pride in producing quality work and cultivating strong, friendly professional relationships.
Jesse lives in Jamaica Plain with his wife Amie.  Jesse leads a very active lifestyle and enjoys running, national and international travel, rock climbing, hiking, Martial Arts, playing acoustic guitar, and anything that challenges him physically and intellectually.
Jesse and Amie met in college in February 2004, mere months before graduation.  Beginning only six months into their relationship, Jesse and Amie spent nine months apart while she studied abroad in Spain, a time interrupted only by her Christmas break and a one-week visit in October 2004.  Jesse and Amie continue to make plans to travel the United States and places abroad and expand their cultural horizons together.
LinkedIn: